Silica sand is used in a variety of products, ranging from construction material to electronics. It is used in industries like glassmaking, chemical production, metal casting, construction, ceramics, filtration, oil and gas recovery, paints, etc. This versatility of applications can be attributed to its chemical inertness and high melting point.
We offer high-grade raw silica sand to buyers around the globe, in the glass manufacturing sector, foundry, hydraulic fracturing, filtration, abrasives and others.
With the focus on silica sand, our key consideration is to execute the development with a sustainable plan. We seek partner/investor in superior quality silica sand mining projects under an integrated system that includes mining operations such as extraction and refining, shipping and distribution to our buyers. The Site has confirmed deposits of a sizeable volume of silica sand. The potential partnership could move beyond the silica sand mining project to product manufacturing. E.g. glass.
Vaccine: Will this be our last human pandemic?
Beauty products: In addition to the huge skin care market for women, would there be growth areas in this industry for modern men and younger generation?
Plastic Replacement: Would Glass be the alternative solution for beverage packaging as part of the sustainability solutions under international companies to combat climate change?
Energy: Demand for solar panel to achieve green energy?
Other applications with large market potential

Our Silica Sand Site
Silica Sand Specification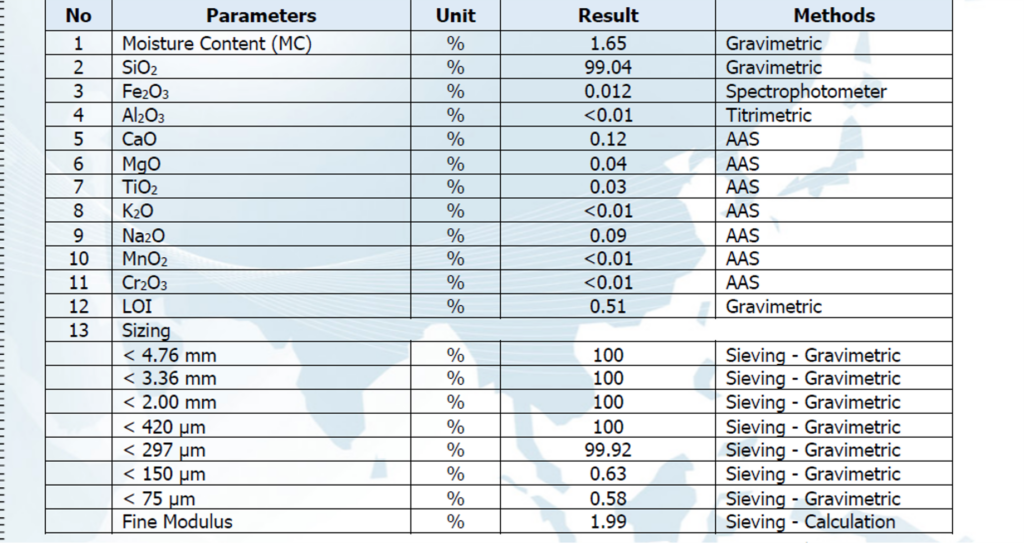 Gallery